Simple, Seamless and Superior
Aligned with your brand and website
Why sell your products in a competitive group online auction environment that will dilute your brand, risk having your bidders remarketed with your competitor's offerings and compromise your selling price?
With Webtron auction software, you can run online auctions from your own website. So rather than being distracted by competing offerings, your buyers will connect exclusively with your business and your brand. For you this means more loyal and profitable customers over the long term. Your Brand and your Bidders.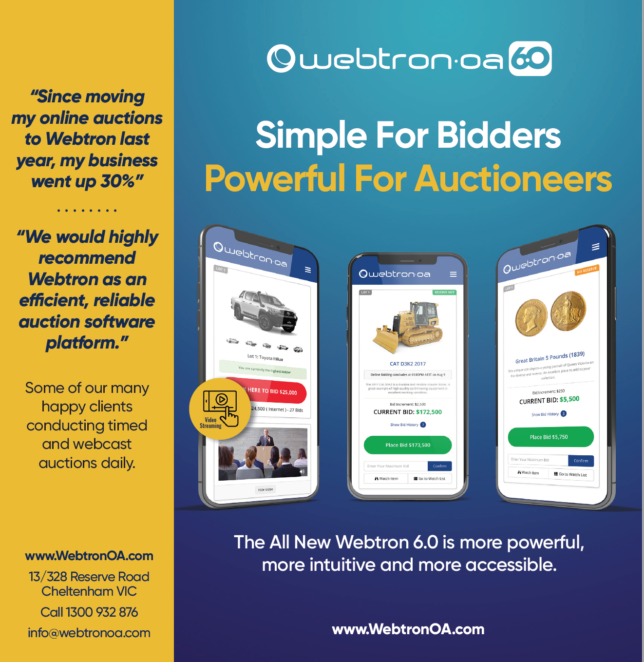 A superior user experience
We know how important technology is when it comes to attracting and retaining online customers. Your bidders' experience must be simple, intuitive and reliable.
That's why we've invested so heavily in our powerful modern and functional bidder user interface. Bidding on your website will be easy and stress-free for even the most inexperienced bidders.
Seamless technology
When you choose Webtron, your customers will be able to bid from anywhere – and from any device (i.e. desktop, tablet or smartphone).
Our platform is also compatible with all operating systems (PC and Mac) and across all browsers including Edge, Google Chrome, Firefox and Safari. It's so modern bidders bid App-Free on all devices including iPhone and Android.
Rich with features and enhancements
At Webtron, we are constantly enhancing our software to meet the increasing needs of our clients and their bidders. We have been helping auctioneers worldwide since 2007. Some of the features we offer include: