Clearing Sales Auction Software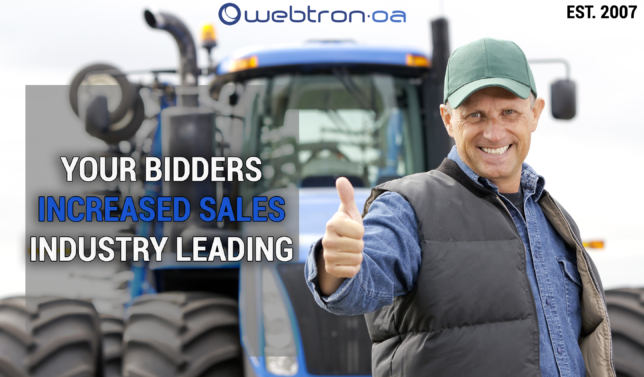 The Webtron Online Auction software platform makes farm clearing sales auctions easier than ever. Webtron has the farm clearing sales auction software to help make your clearing sales an even bigger success online.
With a choice of either a timed or live webcast auction format, our software gives you added exposure to reach more customers and grow your own business online.
And it all runs on your own website. It's simple for bidders and powerful for auctioneers. Webtron is not a group site. It's white label auction software- Your brand, Your Bidders, and running on your website. (your valuable n bidders will never be remarketed to again)
And we support every auction as much or as little as you like.
Timed Online or Live Stream Webcast Auction format
With Webtron, you have the choice of either a timed or live stream/webcast auction format — or both.
Once set up, timed auctions run automatically on your website.
Live Webcast auctions allow you to stream your auction event live in realtime – this can be done through a number of ways. Even if you have no internet at the site! Contact us to find out more.
List as many lots as you like and add pictures, videos, and PDF's. Talk to us today about the best option for you.
Bidding without apps- it just works from your website
App-Free nothing to slow bidders down. Bidders using any current device (desktop or mobile), your users can view your clearing sale auction straight from your website. It's modern, quick, and simple.

Let's work together to make your next clearing sale a bigger success online
Since 2007 Webtron has been providing the very best online auction software for auctioneers.
Contact us today for a clearing sales auction software demonstration.
Want to read on? You may also be interested in: