Simple and Intuitive Bid History
Published on October 18th, 2021
Are you looking for a simple and intuitive optional bid history to improve bidder confidence and enhance your auctions? Webtron has the optional features you need for your online auctions. 
Simple and intuitive optional bid history for your timed auctions
Timed auction bid history is an easy, modern way to increase clarity, transparency and peace of mind for your customers when bidding online.
Webtron's stylish bid history appears on each of your items, displaying the bidder's suburb and paddle number for each bid placed on an item. Thus allowing bidders more clarity and transparency when bidding, whilst preserving their privacy. 
There is also a 'you' tag displayed in the bid history next to each bid a bidder places, so they can easily tell which bids are their own. The bidder's paddle number is also visible as soon as they log into an auction, making it even easier to keep track.
A green "highest bid" tag shows next to the bid at the top of the bid history, confirming for users which bid is the highest bid that has been placed on the lot thus far.
What's more, autobids are standard to Webtron's online auction platform and are fully supported for timed online auctions, and for pre-bidding before a live webcast auction as well as during the live auction event. Without a shadow of doubt, autobids drive up sales revenues. The convenience this offers online bidders means your bidders can bid whenever they like and up to their own personal bidding limits as they see fit. An optional "autobid" tag is displayed next to each autobid in the bid history, greatly increasing clarity for other bidders if they are instantly outbid by someone's autobid.
Bidder Anonymity
Bidder numbers are dynamically generated on a per auction basis. To ensure bidder anonymity at all times.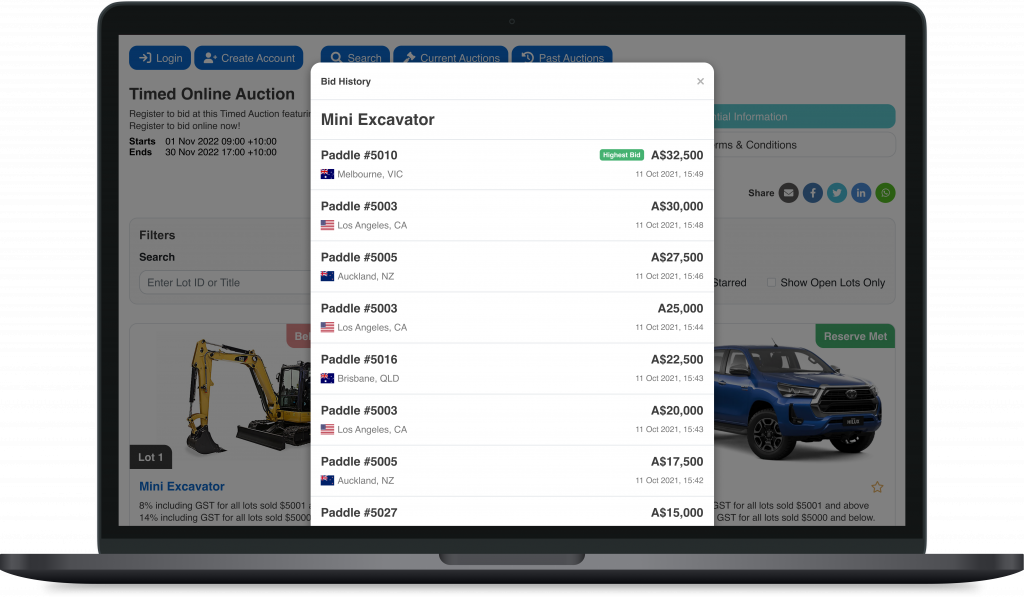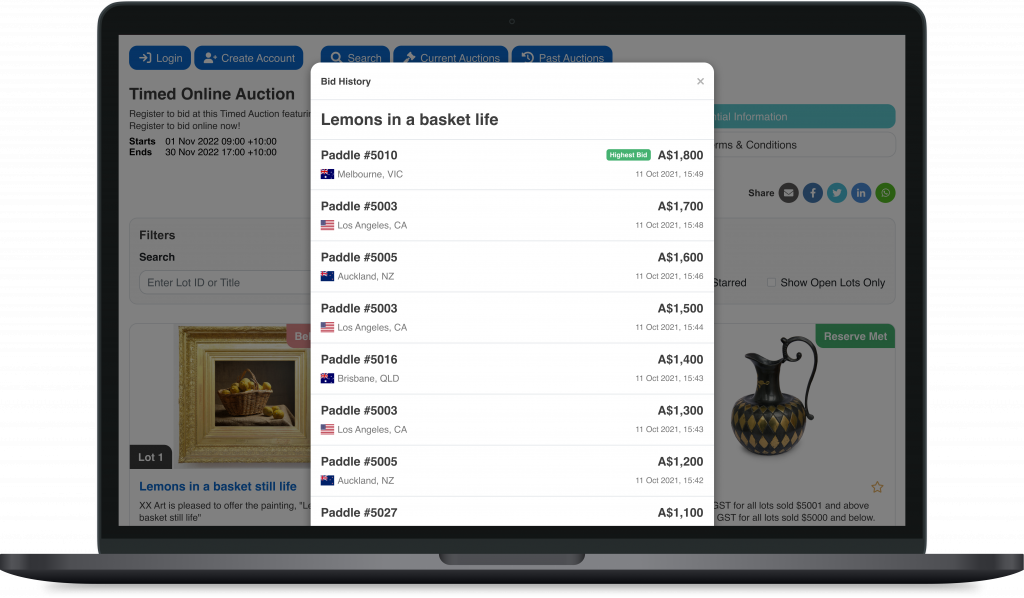 Customisable to suit your business's needs
Since every auction business is different, Webtron's online auction software allows for the flexibility you need to tailor your auctions to suit your needs. Bid history customisation options include:
Hiding the "autobid" tag text
Altering the green "highest bid" tag text
Altering the "you" tag text
Or, don't want bid history for your timed auctions? Webtron recognises that every auction business is unique, so there's also the option to disable bid history if this option isn't right for you.